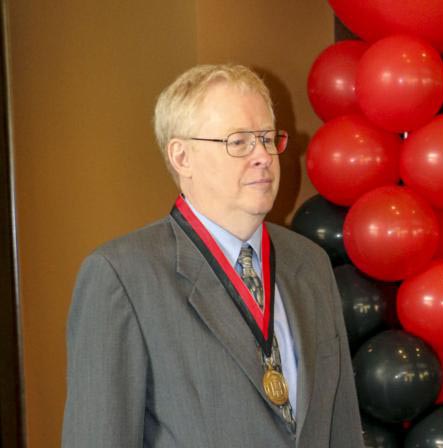 Larry Ludlum of Sweetwater was honored to be designated a "Distinguished Engineer" by Texas Tech University, in a luncheon in Lubbock on Friday April 12th. It is a rare honor: the Texas Tech College of Engineering awarded only two of these awards for 2019. Larry Ludlum, President of Ludlum Measurements, Inc., an alumnus of the Texas Tech Electrical Engineering Department, was awarded this honor because of the many accomplishments over his career.
Many friends and family of Larry were present to participate in this award ceremony. A short program covered the many reasons why Larry was selected for this honor. Larry Ludlum, who followed his dad's footsteps, became an electrical engineer designing radiation detection instrumentation. He has worked his whole life at Ludlum Measurements, and he will say, it IS his whole life. He has many successful designs to his credit. He remains an important reason why Ludlum Measurements is the biggest employer in Sweetwater.
But it is also the management of Ludlum Measurements that he is known for. He first established a division, known as Ludlum Controls, in the early 1980's, branching out a little from radiation instrumentation. He then traveled to Connecticut to learn how to make electron photomultipliers with a newly-purchased company in 1992 named ADIT. Few people know what photomultiplier tubes are or how they work, but they are a vital component of the radiation industry. He became manager of that company, and it continues to employ many people in the Sweetwater area. He also was instrumental in the purchase of another photomultiplier company in the London UK, area in 2007. That company remains in London, and Larry visits every month to keep up with their research and production. Larry also visits two other companies that belong under the Ludlum umbrella, Protean Instruments in Knoxville, Tennessee, and 2B Technologies in Boulder, Colorado. Before the death of his father Don in 2015, Larry assumed the role of President over nearly 500 employees worldwide.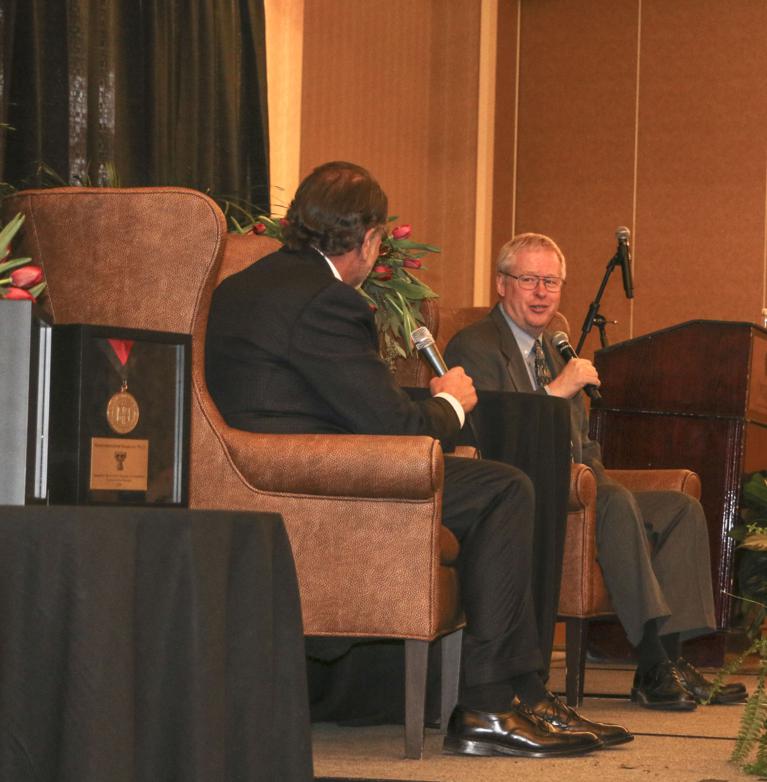 Larry is also generous with his time, being a civic leader in Sweetwater. He has been involved with the Sweetwater Municipal Auditorium since 1983, and has served as President on its Board of Directors. He has been the chief set designer and builder for the annual Sweetwater Jaycee Snake Charmer pageant for over 25 years. He also currently serves on the board of directors for the National WASP (Women Airforce Service Pilots) World War II Museum at Avenger Field in Sweetwater. He has been active in the Sweetwater Municipal Band since 1994, and served as Vice-President and Lead Euphoniumist. He is a member of the Rotary Club, and serves on the City of Sweetwater Civil Service Commission. In partial recognition of his service, he became the City of Sweetwater's Outstanding Male Citizen in 2005.
In granting this honor to Larry, the College of Engineering recognizes that Larry Ludlum is a credit to their engineering program. And Larry has supported the college as well, being on the Electrical and Computer Engineering advisory board for 12 years. Larry's successful engineering designs, his company management, and his support of civic organizations in Sweetwater were all noted at the luncheon. For all the reasons above, the Dean of the College of Engineering of Texas Tech, Al Sacco Jr., proudly named Larry Ludlum a "Distinguished Engineer", gave him a brass plaque, and honored him in front of hundreds of fellow engineers, friends, and family.