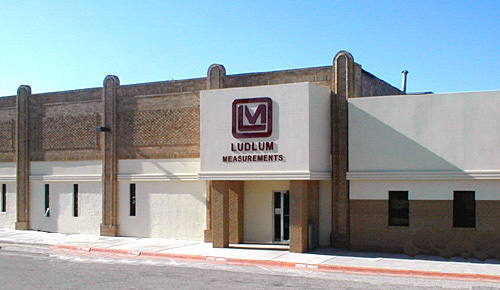 The sales department at Ludlum Measurements, Inc. is always ready to assist you with your needs. When contacting us through email, please remember to fill in the "Subject" line so that we can quickly assess your needs.
Ludlum Measurements, Inc.
501 Oak Street
Sweetwater, Texas 79556
USA
Office Hours: 8:00 am - 5:00 pm CST, Monday - Friday
Toll Free: 800-622-0828 (US & Canada)
Tel: 325-235-5494
Fax: 325-235-4672
Email:
Sales: This email address is being protected from spambots. You need JavaScript enabled to view it.
Repair & Calibration: This email address is being protected from spambots. You need JavaScript enabled to view it.
Training: This email address is being protected from spambots. You need JavaScript enabled to view it.
---
Sales Staff
This email address is being protected from spambots. You need JavaScript enabled to view it. - Sales Manager
Hailing from Wisconsin, Allan Hartfield came to Ludlum Measurements with over 15 years of experience in the nuclear instrument industry. He started with Canberra Industries in various sales support and sales support management roles before transitioning into direct account management and business development roles, to ultimately help grow the business. Allan helped develop strategic regional business for all solutions, products and services related to targeted clients, partners, and governmental entities using both top-down and bottom-up strategies.
His clients have included the Department of Energy, U.S. national laboratories, nuclear enrichment facilities, nuclear power plants, nuclear research facilities and universities. In addition to his vast experience in sales and business development, he also holds a technical degree in Health Physics from Lakeshore Technical College.
Allan looks forward to providing you with his well-qualified services as a member of the Ludlum sales team.
---
This email address is being protected from spambots. You need JavaScript enabled to view it. - Director of Business Development - Latin America
In 2000 Carlos began his career in Mexico in a Power Plant owned by Electricity of France as an Electronic Tech and PP Operator. Four years later he worked for the Company PHOTONIS as a Photomultiplier Engineer in Mexico and Technical Sales Manager in the USA. In 2009 Carlos moved to Sweetwater TX and joined LUDLUM as a Technical Training Manager. Carlos holds a BS degree in Electronics Engineering (Mexico) and an MBA (University of Texas). Breaking the barrier of language and indeed international cultural understanding, Carlos truly enjoys expanding our products and Distributor Networks in the countries of Latin America.
---
This email address is being protected from spambots. You need JavaScript enabled to view it.- Director, European & Middle Eastern Sales and Medical Business
Sig Ditzig's purview includes the development and growth of business in Europe, and the continued leadership of Ludlum Medical Physics (Ludlum Medical Imaging QA) product line. His background includes positions at a major teaching hospital in Cleveland, Ohio where he worked his way up from staff technologist to Administrative Director of Radiology. Sig then began a second career in sales and marketing with other manufacturers in the radiation detection industry before joining Ludlum Measurements. Contact Sig and let him use his experiences in medical instrumentation and radiation detection sales to address your questions or concerns.
---
This email address is being protected from spambots. You need JavaScript enabled to view it.- Director of Business Development - Asia / Pacific Rim
Wayne Richardson manages Ludlum Measurement's business in the Asia/Pacific region, from a regional office in Perth, Australia. With a degree in chemistry from St Joseph's University in Philadelphia, he began his diverse 30+ year career in the nuclear industry. His experience includes laboratory radiochemistry, management of injured/contaminated workers, international sales operations and management, product management and investor relations. Previously Vice President of Sales for a global instrument manufacturer, Wayne brought his extensive experience to Ludlum Measurements in 2010 and continues to expand Ludlum's presence in the Asia/ Pacific region.
---
This email address is being protected from spambots. You need JavaScript enabled to view it.- Sales Supervisor
Patricia Brand began her career with Ludlum Measurements as a Sales Secretary in 1999. Now as Sales Supervisor she relies on her past years in Order Entry to assist with Quality Control checks on current order entry, along with contributing to the effort to ensure all orders are correct when shipped. She also follows up on orders with customers and will handle returns or issue credits. In addition, her talents are put to work when the sales manager is traveling. Her highest priority is providing Ludlum customers with the best service every day, and she performs all tasks with that goal in mind. Patti represents the family-oriented nature of Ludlum Measurements well, as her husband and two daughters are all part of the LMI team.
---
This email address is being protected from spambots. You need JavaScript enabled to view it.- Sales

Elias Chavez, Jr. joined the company in 1990 where he assembled circuit boards, then transferred to the calibration department. In that position he learned to calibrate all portable Ludlum equipment, as well as most bench-type electronics. He trained both customers and new employees in calibration procedures after becoming supervisor of that department. Elias brought his knowledge and experience to the Ludlum Sales department in 2011. He and his family have always lived in Texas, and have called Sweetwater home since 1977. His hobbies include fishing, biking, and music, and he has been a member of the Sweetwater Municipal Band for over two decades. Elias is ready to assist customers with orders, questions, or suggestions.
---
This email address is being protected from spambots. You need JavaScript enabled to view it.- Sales
Ryan McCorkle came to us from a career in horticulture and turf grass management following his graduation from Texas Tech University in 2006. He appreciates the challenges of growing something, whether it is turf grasses in west Texas, or product lines at Ludlum Measurements. Ryan is active, whether at work tracking down an answer to a customer's question or after work at home with his family. His hobbies include sports, hunting, and his favorite, bass fishing. As you might guess from someone who has interests involving horticulture and fishing, Ryan is a big fan of water and water activities. But he will never water down his customer service skills, so contact him with your questions.
---
This email address is being protected from spambots. You need JavaScript enabled to view it.- Sales
Meet Mike Miller, a 2007 addition to the Ludlum Sales team. Raised in Sweetwater where he graduated high school then attended Texas Tech University, Mike has a variety of experiences in sales, service, and meeting the customers' needs. He ran his own real estate, grocery store, and insurance businesses. Mike brings his personable business practices to Ludlum Measurements where his pleasant manner will provide you with a genuinely friendly west Texas experience.
---
This email address is being protected from spambots. You need JavaScript enabled to view it.- Sales
Veronica Ornelas is a good example of the versatility and adaptability of many of our talented people. She began her career at ADIT, a manufacturer of photomultiplier tubes used in many of Ludlum's detectors. She then moved to Ludlum's Repair and Calibration department when she calibrated meters (both Ludlum and non-Ludlum meters) and eventually became the Customer Service Representative for the repair department. Veronica brought her customer service skills to the sales department in 2010 and has continued to zero in on putting forth the highest caliber of performance. Let Veronica help you with your sales orders and instrument repairs or parts.